Black Lives Matter exists in the United States to combat supposed racism among its institutions and police forces, particularly against police brutality, according to many leftwing news outlets and their followers.
However, it seems quite odd that a group with such a hard stance against police brutality would also be great supporters of one of the world's most brutal dictators.
Black Lives Matter Co-Founder, Opal Tometi, has been a staunch supporter of Nicholas Maduro, the Venezuelan dictator who is known for his brutal tactics to quell political opposition. That includes killing political opposition.
A photo has recently surfaced of Opal Tometi and Nicholas Maduro, from back in 2015, when they were both in Harlem.
Ivan Pentchoukov toasted this on Twitter: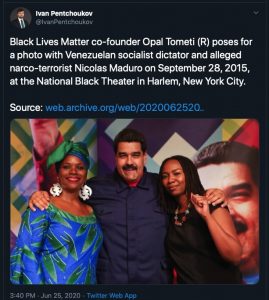 According to OANN, the photo was taken at the 2015 People of African Descent Leadership Summit and Maduro was in New York for the UN General Assembly.
Opal Tometi also wrote an article  in 2015 where she praised the Bolivarian Revolution, calling their election system "among the best in the world".
In these last 17 years, we have witnessed the Bolivarian Revolution champion participatory democracy and construct a fair, transparent election system recognized as among the best in the world...
She claims their system has allowed for the triumph of rights for the people of Venezuela and praised the 'vast oil reserves that once went directly to the U.S. now are invested in social programs".
She sides with the Maduro regime and blames the U.S. for backing "right wing Venezuelan elite".
We reject the hypocrisy of the Venezuelan elite – who like settlers everywhere – cling to their white privilege
In case you're not aware, Venezuela was once the wealthiest country in South America and is now one of the poorest. Maduro is still at the reigns. A UN report estimated in March 2019 that 94% of Venezuelans live in poverty.
Over the last few days a video has also come to light about another Black Lives Matter Co-Founder, Patrice Cullors, who bragged about being "trained Marxists" and said their "goal is to get Trump out".
America needs to take a good, hard and honest look at what this organization stands for and really wants. The leaders seem to be in bed with some of the most brutal dictators in the world and are praising fallen systems of government. That's not the path forward for America, regardless of how you may feel about President Trump.