"The Immaculate Deception"
Director of the Office of Trade and Manufacturing Policy Peter Navarro published a report that outlines the "Six Key Dimensions of Election Irregularities".
The "report assesses the fairness and integrity of the 2020 Presidential Election by examining six dimensions of alleged election irregularities across six key battleground states. Evidence used to conduct this assessment includes more than 50 lawsuits and judicial rulings, thousands of affidavits and declarations, 1 testimony in a variety of state venues, published analyses by think tanks and legal centers, videos and photos, public comments, and extensive press coverage."
The chart below shows you just how much fraud actually occurred across these six swing states.
The six key dimensions that Navarro explains are: outright voter fraud, ballot mishandling, contestable process fouls, equal protection clause violations, voting machine irregularities, and significant statistical anomalies. He lists them out by state as well as whether they have 'wide-spread evidence' or 'some evidence'.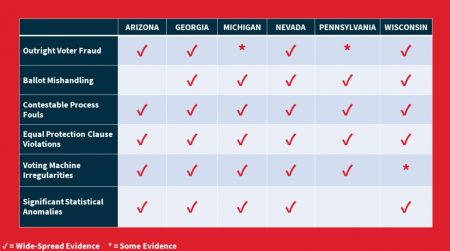 This is probably the easiest and most detailed resource to use, given that there are so many different areas that contain many different facets of fraud allegations.
This was theft by a thousand cuts across six dimensions and six battleground states rather than any one single "silver bullet" election irregularity.
Navarro also explains why this report is so important. The media won't cover any evidence of this. The major media is not airing the state hearings where all the evidence is being exposed. They, instead, show you the hearings with the Senate where they only have Dominion folks giving their side of the story. OAN has been airing the state by state hearings.
To put this another way, if the greatest democracy in world history cannot conduct a free and fair election, and if much of the mainstream media of this country won't even fully investigate what is becoming a growing mountain of evidence calling into question the election result, there is little chance that our democracy and this Republic will survive as we know it. It is therefore critical that we get to the bottom of this matter. That is the purpose of this report.
If we don't get this right, right now, things will get very bad in our country.
Read the full report here. This report will be worth your time to read.